Cleveland Roof Repairs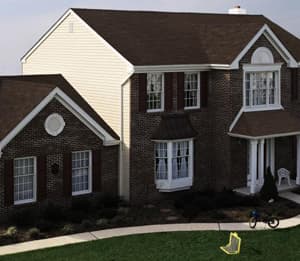 Is your roof leaking? Can you see you shingles flapping in the wind? Then it's time to get your roof repaired by a licensed Cleveland roof repair contractor.
Having a roof repaired can be a dread some task for Cleveland homeowners. Even though your roof is usually made out of the most durable materials available, it also takes the most of the punishment from the extreme weather elements. Just like anything else in life, roof repairs never happen at a convenient time.
Certain roofing contractors will not do roofing repairs and will insist that you need a brand new roof. That is why our roofing company is different. It is hard to find an honest roofing contractor, which is why we pride ourselves on the reputation we have built in the Cleveland area of being an up-front and honest roofing contractor. At Upper Level Roofing and Construction, Inc, we will fully inspect your roof, pinpoint any problems and offer you the best solution at an affordable price.
When you choose Upper Level Roofing and Construction, Inc for your next roofing repair, you will always get excellent customer service, quality work that will last, the best products on the market and up-front pricing that will keep you in budget.
Tips: Easy Ways to Spot Roof Leaks
Drip, drip, drip! You've heard the sound; you've seen the evidence. If your roof is leaking, you've got major problems. The first step towards solving a leaky roof mystery is discovering the source of the leak. Follow these quick tips for locating the source of a leaky roof, then give your Cleveland area roofers a call:
Let nature be your guide: Sometimes, the easiest way to locate a leak is to wait for a rainy day, then inspect your ceilings and attic for damage. Another quick trick is to use a garden hose to spray potential areas of your roof.
Check the connections: Areas that connect to your roof, such as skylights and chimneys are particulary vulnerable areas for leaks to appear. Improperly installed sealants or flashing could be the culprit.
Design flaws: Your roof may be more prone to leaks depending on its design. Roofs with a low slope and flat areas are more likely to cause water to pool under the shingles. Melting snow and ice during the winter months can also cause damage to shingles.
A Cleveland Ohio roofing professional company such as Upper Level Roofing and Construction Inc, offers a trained and Manufacturer Certified team for any and all of your roofing needs.
Chimney Flashing Leaks
The most common cause of roof leaks in Cleveland is damaged or improperly installed chimney flashing. Flashing is a 6 to 8 inch metal strip which seals the joints between the chimney and the rest of the roof. If this flashing is damaged or even missing, your roof is likely to leak.
Temperature changes throughout the year can put pressure on chimney flashing, pulling the material away from the joint.
Improperly patched-flashing: an older method of flashing repair involves patching the area with an asphalt-based compound. This is only a temporary fix, as weather can cause the compound to crack or break down. This can open up old leaks, and even cause new leaks to form.
A chimney's weakest points are located on its top and sides, because these areas face the most exposure from sunlight and inclement weather.
Cracks can occur within the chimney structure itself. While the mortar between bricks is meant to ease pressure between bricks and other building materials, time and extreme temperatures can cause a breakdown of the mortar joints.
Recent Articles & Tips
Storm damage is a broad term for various weather-related events, from heavy wind and rain to severe hail or ice. Your roof is subjected to the elements and harsh temperature extremes every day of the […]
READ MORE
Your Cleveland roof is the first line of defense for your home against rain, snow, sun, hail, etc. It needs to be of the best quality or else as it's subjected to ordinary wear and tear; it will easi […]
READ MORE