Roofing Insurance Claim Process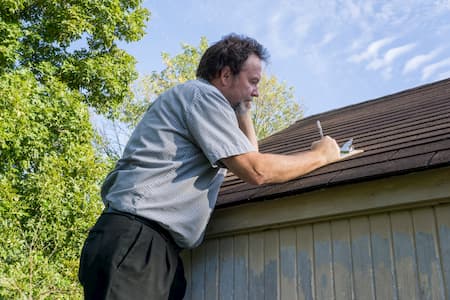 Most insurance providers consider roof damage from wind and rain to be caused by natural disasters. Therefore, your roof repair claim won't cause your insurance rates to increase in the future. Upper Level Roofing and Construction, Inc will work with you step-by-step throughout the insurance claim process.
Upper Level Roofing and Construction, Inc Insurance Claim Process
Please provide us with a copy of your insurance adjuster's report. We will review it to ensure all damage has been properly evaluated. We will then develop a roofing contract according to what your insurance company will cover. We will also recommend additional repair services if deemed necessary. The signed contract is sent to your insurance provider for approval. Additional forms will be required if there is a mortgage on your home.
Storm Damage FAQs
The severe weather has passed, and your roof seems to be in good condition. But if that storm was particularly bad, your roof may have sustained damage that isn't immediately noticeable.
Q: My roof doesn't look bad. How do I know if there's a problem?
A: Roof damage can be subtle and difficult to detect. A specially-trained inspector or insurance adjuster will need to examine the roof to find any underlying structural damage.
Q: My roof isn't missing any shingles. Does that mean there's no damage?
A: Intense rain and hail can cause slight movements to shingles, allowing water to seep in and cause damage, even if no shingles are lost.
Q: My roof was inspected, and it only sustained minimal damage. Do I still need to file a claim?
A: Any weather damage caused to your roof constitutes a valid claim. Remember, even a small leak now can cause insidious structural damage over time. It's important to have your roof inspected, then file a claim.
Q: Could my insurance company cancel my policy if I file a claim?
A: Most states have laws in place to prohibit insurance providers from canceling your policy. Be sure to read your state's individuals laws for specific information.
Q: Won't my insurance company raise my rates if I file a claim?
A: A major disaster is likely to raise everyone's insurance rates across-the-board, regardless of insurance provider, and regardless of whether you filed a claim. When insurance rates rise after severe weather, you are effectively helping to pay for everyone else's damage but your own, if you don't file a claim.
Roof Repair Claim Resources
Hail Damage
While most hail is too small to damage your roof, severe weather may occasionally cause large hail to form. Hail can cause weak spots and leaks to form on your roof. This type of damage is usually covered by your insurance provider.
Deductibles
You are required by law to pay your insurance policy's deductible in the event of a roof damage claim. However, Upper Level Roofing and Construction, Inc does offer occasional rebates which may be used to offset the cost of your deductible.
Depreciation
Sometimes your insurance company will temporarily withold funds to ensure that your roof repairs are made in a timely fashion, and to ensure that the homeowner pays his or deductible in full. This is a common practice by insurance companies, who prefer to adjust their payout based on the final roof repair costs.
Multiple Estimates
While it's always a great idea to seek more than one roof repair estimate, the most important factor is ensuring that the estimated service cost is less than or equal to what your insurance provider will pay. At Upper Level Roofing and Construction, Inc, we recommend choosing a contractor whom you trust to do the most professional and accurate work.