No Need To Move - Expand Your Cleveland Space With A Home Addition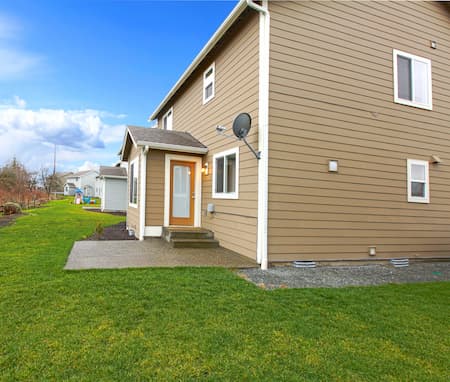 Home additions are a great way to add square footage without having to leave your Cleveland home or neighborhood. The expert roofing contractors at Upper Level Roofing & Construction can help you with any home construction project you have in mind to make your home as big as you need it to be.
Whatever type of room addition you need, rest in the knowledge that we're locally owned and operated and provide quality construction and quality materials for your home addition needs.
Some home additions you can add to your Cleveland home:
Nursery Addition
When your family starts growing, a nursery is the perfect room addition to your home. As your little one grows, the nursery can be turned into their bedroom or a playroom.
Home Office
Working from home is becoming an option for more and more people. When you're working remotely, distractions can be anywhere and everywhere, and that's why a room addition of a home office could be the perfect solution to the distraction dilemma.
Study Nook
When you want to get away to study in peace and quiet for important exams, there's no better place than an attic turned study nook. The loft space is high up and hidden from everyone, so you can get some valuable study time in. If studying isn't for you, then maybe a sewing or hobby room might be up your alley. The home addition ideas are limitless.
Man-Cave
Who doesn't want their very own man-cave; a place to get away to watch sports, play games, or just chill and watch movies? This home addition is called a man-cave, but that doesn't mean "no girls allowed!" This room addition can be for anyone.
Family Game Room
A family game room is a great home addition that will bring everyone in the household together over gaming. Most families have "family game night" at the kitchen table or on a coffee table in the living room, which can get cramped. If you're a competitive family that loves to play classic or virtual games, then a family game room is just what you need!
Whatever type of home addition you need, just give Upper Level Roofing & Construction a call.
Recent Articles & Tips
Storm damage is a broad term for various weather-related events, from heavy wind and rain to severe hail or ice. Your roof is subjected to the elements and harsh temperature extremes every day of the […]
READ MORE
Your Cleveland roof is the first line of defense for your home against rain, snow, sun, hail, etc. It needs to be of the best quality or else as it's subjected to ordinary wear and tear; it will easi […]
READ MORE