Cleveland Cerified Roof Inspections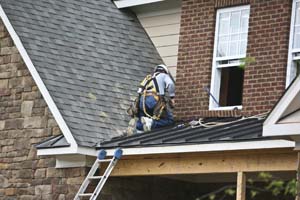 If you are buy or selling your Cleveland home, a roof inspection by a certified Cleveland roof inspector is definitely in order. It always important to know the state of a home, especially the roof that protects from the elements.
Did a storm just pass through? Maybe you notice that your neighbors are having their roof repaired and another is having their roof replaced? A good part of maintaining a home is having your roof inspected and up keep performed. This ensures the longevity of your roof and that it will protect you from the outdoor elements for many years.
Our professional Cleveland certified roofing contractors are highly trained to find all of the issues associated with repairing your roof. This prevents covering up any problems or leading to any unexpected charges. At Upper Level Roofing and Construction, Inc we will only repair what needs to be repaired. Rest assured that we will never talk you into a roof replacement, when a simple repair will do. We are your trusted Cleveland roof inspecting contractor.
Recent Articles & Tips
Storm damage is a broad term for various weather-related events, from heavy wind and rain to severe hail or ice. Your roof is subjected to the elements and harsh temperature extremes every day of the […]
READ MORE
Your Cleveland roof is the first line of defense for your home against rain, snow, sun, hail, etc. It needs to be of the best quality or else as it's subjected to ordinary wear and tear; it will easi […]
READ MORE